[ad_1]

BENGALURU: A 33-year-old man, who sold tea during the day and made lakhs of rupees at night by running an illegal telephone exchange where international calls were converted to local ones, was arrested here on Tuesday.
Ashraf, 33, who hails from Calicut in Kerala, stays in a Chikkabanavara flat where the operations were conducted. Central Crime Branch (CCB) sleuths recovered equipment used for the scam. Ashraf learnt how to do the international-local conversion illegally by using Voice Over Internet Protocol (VOIP), which caused a huge financial loss to telecom service providers.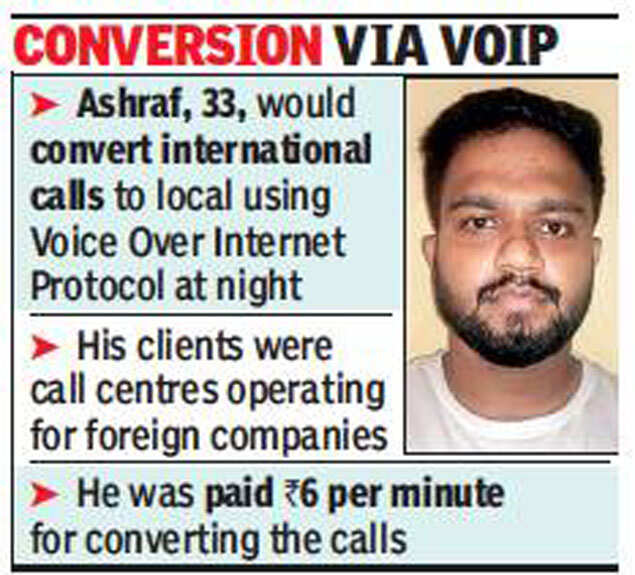 Many call centres in Bengaluru work for foreign companies. Their customer care calls are usually international and either the company or customer has to pay for them.
Such calls would be diverted to Ashraf 's exchange where the illegal conversion would happen. More than 100 Indian sim cards were inserted in slots and the VOIP device had received about 560 calls in the past three days alone.
He would get Rs 6 per minute for call conversion
According to black-market rates, Ashraf would get Rs 6 per minute for converting international calls to local calls. He had bought sim cards from Kerala and other parts of the country. Though he confessed to the crime, Ashraf claimed some others are also involved in the racket.
"We received information that from a specific area, international calls were being converted to local ones to make a huge sum. The only way to detect it was by identifying people who had high-speed internet connections. We found about 240 houses with highspeed internet connections and a majority were either on the first or ground floor. We gathered information about those on the top floor as these are preferred for better connectivity," police sources said.
"We found Ashraf's residence and tracked his movements. We were surprised as he ran a tea shop during the day and ran the illegal operation at night," a police officer said.
[ad_2]

Source link